Many of you might have used a website with an older version of Joomla! for quite some time, and then comes a day you cannot resist a change anymore. You need to revitalize your websites and content structure, making them up-to-date. I am the one among you who is subject to that task.

I will use OSEDA website, the official website of the Open Source Education and Development Association, as an example. There is nothing complicated about website migration: adding only a few extensions, improving menu and content structures, and renewing some URLs of some menus. By going directly to the homepage and clicking menus, users can navigate the website as usual. However, due to its long existence, the website's URL history has been kept by Google, known as Google cache. Besides, there are also many pages redirected to the website through the old URLs. As a result of URL renewal, there are times when users access the website through the redirected links, only to find the error message on the page: 404 Page Not Found. To tackle this problem, we make use of the Joomla! Components Redirect Manager in order to access new URLs through 301 Redirect Page. The webmaster has to always check which URL was called, and which was called but led to the error page.

On how to use the Components Redirect Manager, consult the following Joomla! manuals:
Joomla 2.5 : http://docs.joomla.org/Help25:Components_Redirect_Manager
Joomla 3.3 : http://docs.joomla.org/Help33:Components_Redirect_Manager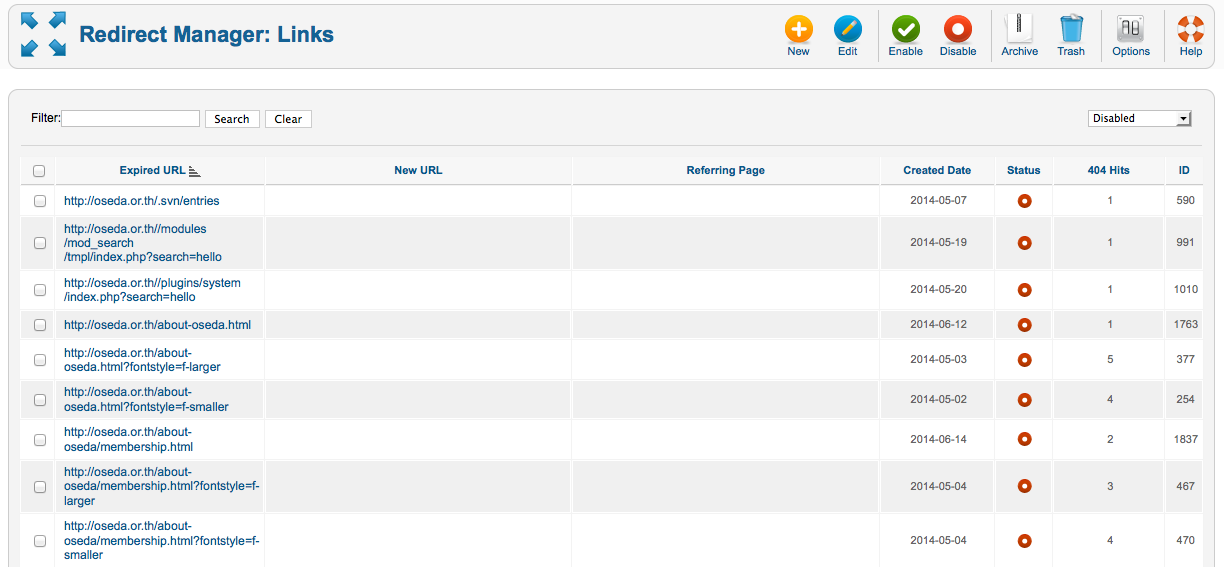 Now, after having used the Manager for a while, we will find a lot of items in the Redirect Manager: there are many URLs appearing in the "Expired URL" column. The webmaster has to make sure if each URL has a page that once corresponded to it; if so, the webmaster will add the new URL of that page in the "New URL" column and enable it in order to "bridge" the old and new routes to the same page. Normally, the "404 Hits" column is also taken into account, helping the webmaster know about call frequencies and referring pages of the expired URLs.

In my case, I have found many URLs without referring pages, all of which may be removed readily on close and frequent monitoring. Alas, I am responsible for many websites, with a limited amount of time. And as there are an increasing number of expired URLs waiting to be removed, I began thinking of the way to ease the burden of removing these items one by one. Normally, removing items in Joomla! is just a change of status, from activated to deactivated. To get rid of them completely, the Manager filter must be reset in order to permanently delete these items from the system. And doing so takes a considerable length of time.

For this reason, the Redirect Link Cleaner plugin has come into play. First, in order to remove items with no referring pages, see the "Basic Options" column and choose "Yes" at "None Referring Page". See if the status is "Disabled", or "Trash", or "Disabled and Trash". If it is as shown in the picture, the plugin will automatically remove all items with no referring pages, most of which are spam bots.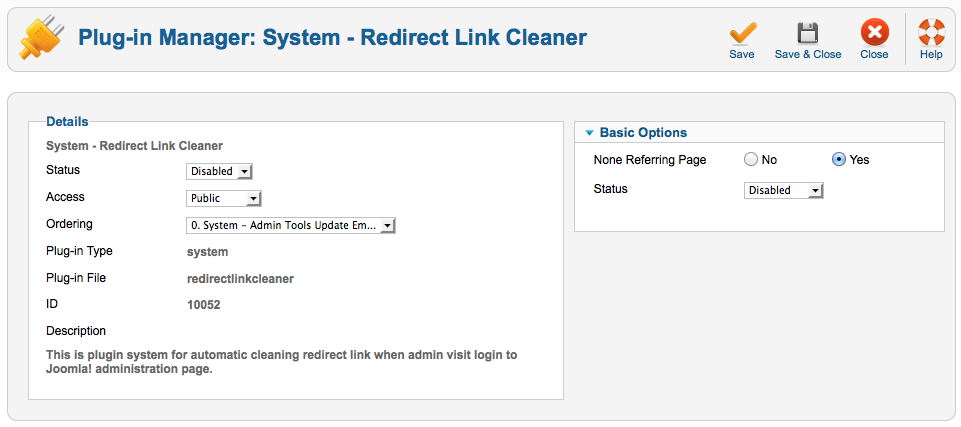 With all expired items gone, what remains are only those items with referring pages. However, I saw a large number of items whose referring pages are www.baidu.com, which is strange enough because the page was called by unfamiliar URLs. So I decided to remove them. To do so, I went back to reset the "Basic Options". This time I chose "No" at "None Referring Page", which makes the plugin delete all URLs I wanted to delete except those still in use.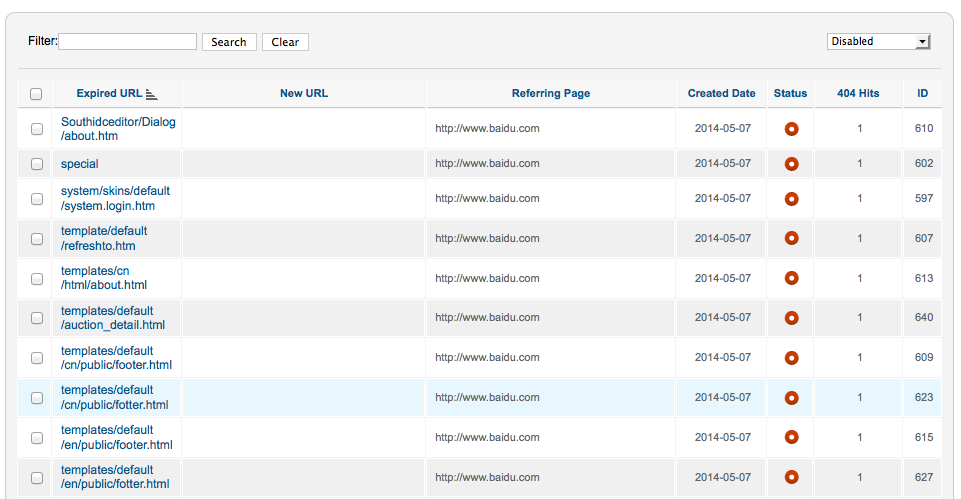 Now, if we want to keep items with referring pages for future use, we have to reset the values to make the cleaner skip the items we want to keep. Please keep in mind: frequently monitor the URLs, or there will be tons of items for you to manage later. And trust me, that is definitely not a pleasant job!


For those interested in the Redirect Link Cleaner plugin, please see the following link: http://www.cmsplugin.com/products/plugins/16-redirect-link-cleaner